Factoring A Viable Cash Flow Solution
Congratulations, you won the bid for a substantial contract! Here's the problem though: the 30 to 60-days it will take to get paid on each invoice is going to put your small company on rocky ground. How can you grow your business if you don't have the cash to support your growth?
Limited cash flow doesn't have to keep you from growing your business; there are solutions.
You could approach a bank and go through a time-consuming process requiring a long paperwork trail and collateral to secure the loan you need. If you don't have an established credit history, it may be difficult to qualify. If you are approved, you might not even get enough funding to help your needs.
According to the Federal Reserve Bank of New York in 2017, more than half of all businesses earning less than $10M annual revenue experienced a financing shortfall; hence they did not receive the financing they sought during the fiscal year.

View Source: fedsmallbusiness.org
A more viable solution:
A faster way to optimize cash flow is to leverage your invoices (accounts receivable) through a process called finance factoring.
Not only will you get the funding needed to take care of payroll and other daily expenses but you can position your business to grow with increased cash flow to cover the demands of bigger projects.
How does it work?
Accounts receivable financing allows you to use your invoices or accounts receivable as collateral to receive funding. Unlike traditional lending, factoring is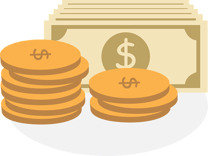 dependent on your customer's credit, not the contractor's (you). This way, you can take advantage of your client's creditworthiness to get advances on your invoices and accounts receivable. With the help of factoring, you can get more control over your cash flow which will enable you to take on larger projects or grow your team. With factoring, your progress won't be slowed down having to wait on your clients to pay.

Most factoring companies such as Crédito Real USA, offer a host of financial services. Crédito Real USA, not only specializes in giving small to medium construction companies access to funding, but they also lease heavy equipment.
Reach your goals.
Ultimately Crédito Real wants to help you grow your business so that you can build adequate cash flow and collateral. Once your business grows and establishes a financial track record, you could pursue obtaining financing from a traditional lender. By partnering with you, Crédito Real USA wants to help you reach that next level.
---
Check out our contractor networking event Conexión.